Product Details
Optical Lenses are optical components designed to focus or diverge light, widely applicated from microscopy to laser processing. A Plano-Convex or Double-Convex lens causes light to focus to a point, while a Plano-Concave or Double-Concave lens diverges the light which traveling through the lens. Achromatic Lenses are ideal for correcting color, aspheric lenses are designed to correct spherical aberration.Ge, Si, or ZnSe lenses are suited for transmitting the Infrared (IR) spectrum, fused silica is well suited for the Ultraviolet (UV).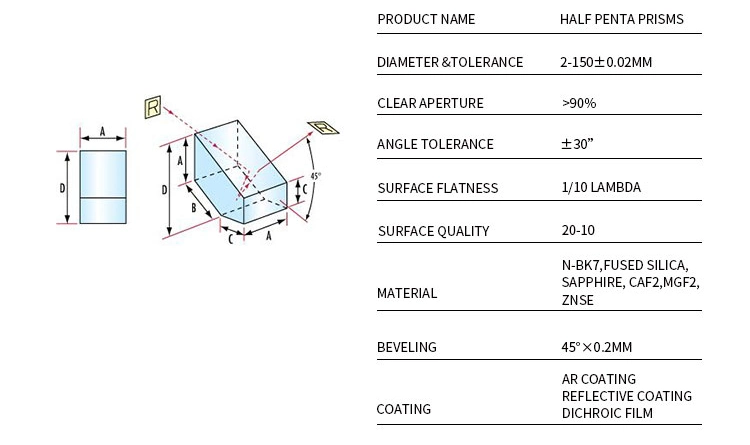 Penta prisms
Penta prisms
are five-sided prisms featuring a ray deviation of 90° and a right handed image. The reflecting surfaces are aluminized for increased efficiency. Slight movement of the prism does not affect the true right angle at which light rays are reflected, making a penta prism the ideal optical tool for defining a right angle in an optical system.
| | |
| --- | --- |
| Dimensional Tolerance | ±0.1mm |
| Angle Tolerance | ±3 Arcmin |
| Surface Flatness | 1/4 Lambda |
| Surface Quality | 60/40, 40/20 or better |
| Material | BK7/UV fused silica/optical glass |
| Ray Deviation | 90 ° |
| Bevel | Protective bevel as needed |
| Coating | Custom |
Shenyang Ebetter Optics Co., Ltd. offers a wide range of Optical lenses:Plano-convex lenses, Bi-convex lenses,Plano-concavelenses, Bi-concave lenses, Meniscus lenses, Ball lenses and Aspherical lenses.
Penta prisms