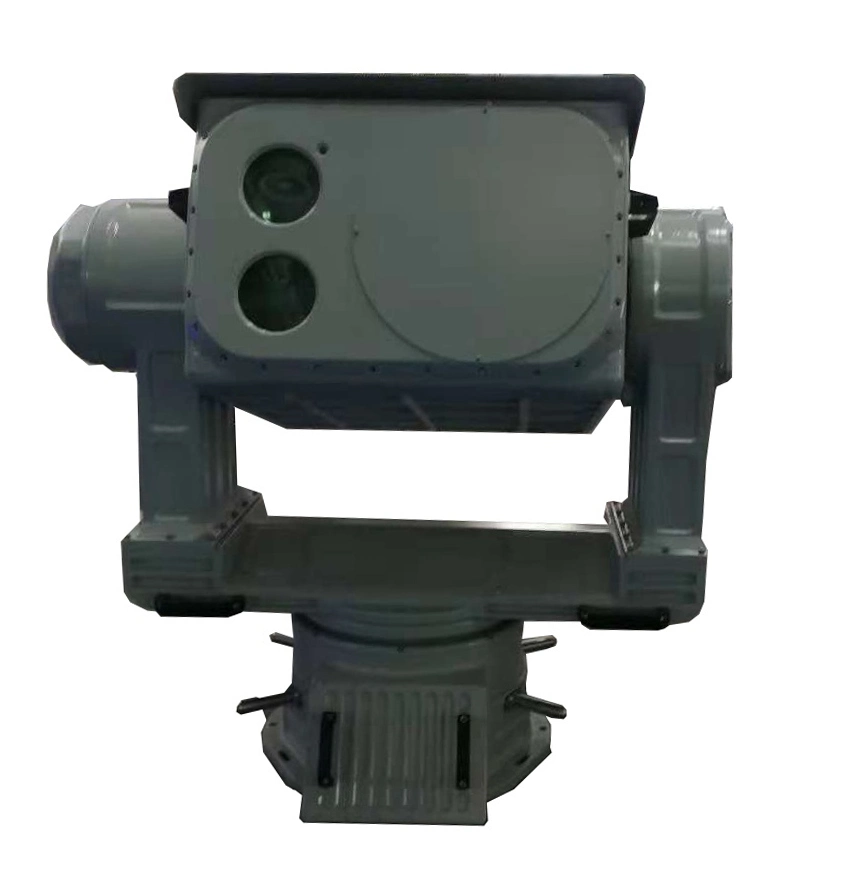 1 Features:
Adopting thermal imaging technology, imaging clearly, can search in large area and recognize objectives in long distance

640× 512 high resolution infrared detector with NETD≤ 50mK

Day and night 2 megapixels low illuminance color camera, realizing day and night continuous monitoring

Optional auto focusing function, realizing multiple focusing mode and triggering mode

Optional thermal imaging camera presetting function, remembering FOV of each preset bit, enhancing working efficiency

3D locating function, can realize frame selection magnifying function and clicking to center function, reducing operating difficulty, enhancing device usability

High reliability aluminum alloy electro-optical pantilt, reinforcement design, strong ability of anti-wind, anti-salt fog, low and high temperature resistance etc.
2 Specification:
Model

UT550HLV4020HTIR210R

Monitoring distance

Visible camera

9000m

Object

Human

Vehicle

Thermal camera

5600m

16000m

1400m

4000m

780m

2000m

Thermal detector

Detector

Uncooled microbolometer focal plane array(Vox)

Effective pixel

640×512

Spectral range

8~ 14μm

NETD

≤50mK@F1.0,300K

Frame rate

25Hz

Image process

DDE, pseudo color

Thermal lens

Focal length

20~200mm,10x zoom

FOV

3.1°×2.5°~30.4°×24.6°

F value

F1.0~ F1.2

Lens control

E-zoom, e-focus(auto focus optional)

IFOV

0.09~0.85mrad

HD Camera

Sensor type

1/1.8'' Progressive Scan CMOS

Coding format

H.264/MJPEG/MPEG4

Video resolution

1080P,CIF,supporting three stream

Video bit rate

32Kbps~ 16Mbps

Video frame rate

1~ 25F/S (50Hz), 1~ 30F/S (60Hz)

HD lens

Focal length

16.7~1000mm

FOV

25°~ 0.45°

Other

Defog, Auto focus Support for optional

Pan-tilt

load

40kg

Angle

Pan: 0°~ 360°; Tilt: -45°~ +45°

speed

Pan: 0.01°~ 45°/s; Tilt: 0.01°~ 30°/s

Preset

200

Preset accuracy

±0.1°(±0.05° optional)

Auto cruise

8 paths, 10 presets each path

Auto scan

1 path

Anti-wind

Grade 12

Interface

Power supply

DC30V

Network interface

1x10Base-T/100Base-TX, RJ45

Video interface

RS485/RS422, BNC video output

Environment indicators

temp.

operation -25ºC~ +55ºC (-40ºC~ +65ºC optional), Storage -40ºC~ +65ºC

Protection grade

IP66

Power supply

power supply

Wide range power input AC90~305V to output DC30V/10A, anti-water power supply

Consumption

≤180W
3 Our Services

(1) We generally offer one year warranty. Extended warranty is also available.
(2) Life-long technical support. Professional technical team and salesperson help you with troubleshooting procedures any time when needed.
(3) We accept OEM.
(4) We offer customized product.
4 Company Introduction
China Sheenrun Optics & Electronics Co., Ltd, which was founded in 2004, is a leading night vision equipment and rugged information equipment supplier, as well as a relying construction company of Shandong Province Academician Workstation and Night Vision Surveillance Engineering Technology Research Center. Sheenrun adheres to independent innovation, developed the world's first laser night vision camera and the first uncooled continuous zoom infrared thermal imaging camera with independent intellectual property rights, its synchronous zoom laser night vision technology and continuous zoom thermal imaging technology have reached international advanced standard level, possess the world's largest market share in laser night vision market.