Laser Cutter 180W CO2 Laser Cutting Machine for Non-Metal Materials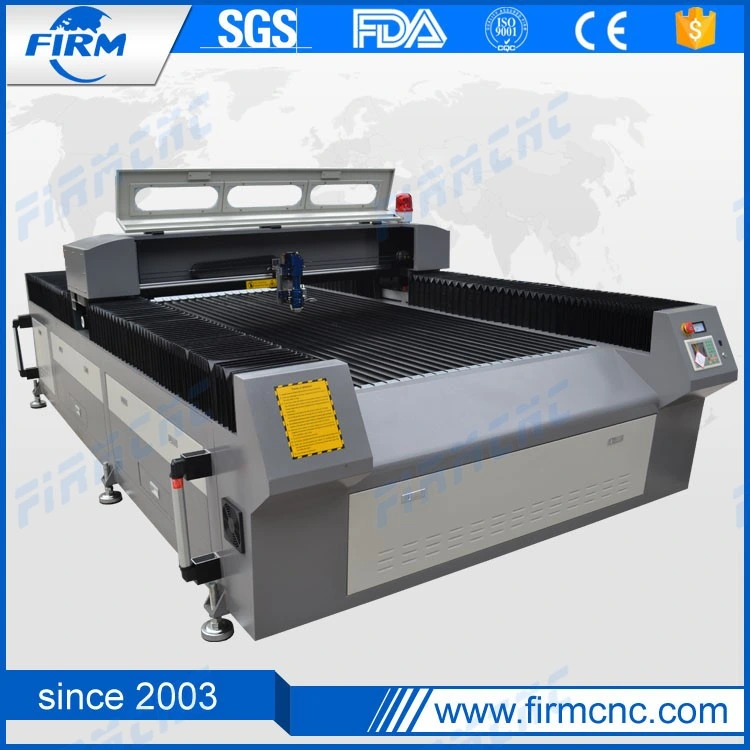 Main features
1.Imported stepper motor and drive systems
2.Domestic reci lasers (150W/ 180W/ 200W) optional, Adopted imported linear guide rail
3.Large LCD display subtitles, humane button control panel
4.Optical system using the full import of laser lens system in Singapore
5.High strength stainless iron or aluminum honeycomb floor slats optional knife
6.Ruida controller system--6332 model
7.Water chiller --CW5000/CW5200/CW6000,is used to cool laser tube down during working
less than 100w laser power, it is better to choose water pump.
more than 100w laser power, it is better to choose water chiller

Technical specification
No

Model

FMJ1325 metal laser cutting machine

1

Effective working size

1300*250 mm

2

Laser power

W6/W8 150W/180W RECI laser tube

3

Laser type

CO2 laser tube

4

Cutting speed

0-200mm/s

5

Working accuracy

±0.005mm

6

Control system

Ruida control system--model 6332

7

Guide rail

Taiwan HIWIN square rail

8

Motor

Step motor and drivers

9

Cutting thickness

0-2 mm

10

Table structure

Mesa of the blade

11

Dust collector

550W x air exhaust fan with tube ducts

12

Transmission way

Shanghai Fulong Belt drive

13

Min. shaping character

Character 2*2mm, English 1 x 1mm

14

Graphic format supported

PLT, DXF, BMP, AI, DSP

15

Software supported

CorelDraw, Photoshop, AutoCAD

16

Driving system

Step motor

17

Cooling system

Water pump/Water chiller

18

Water chiller

CW5000/CW5200

19

Laser tube lifetime

RECI laser tube:10000h

20

Power supply

220V±10% 50HZ or 110V±10% 60HZ

21

Operation temperature

0 - 45°C

22

Operation humidity

5 - 95%

23

Recommended spare part

Laser tube and lens

24




Main configuration

1X Laser tube

1set X Mirror and lens

1X Water chiller 1X EXHAUST FAN 1x exhaust fan smoke pipe, 1X water pipe

1x USB cable 1x communication cable 1x CD(Ruida software english version)

25

Warranty

1)All the machines will be full tested before shipment.
2)Laser tube 10000 hours' working time.
3)The total machine guarantee for 18 month. Laser tube and Lens for 6 Months.
4)24 hours technical support-- email, telephone or video online.
5)User-friendly English manual for machine using and maintaining.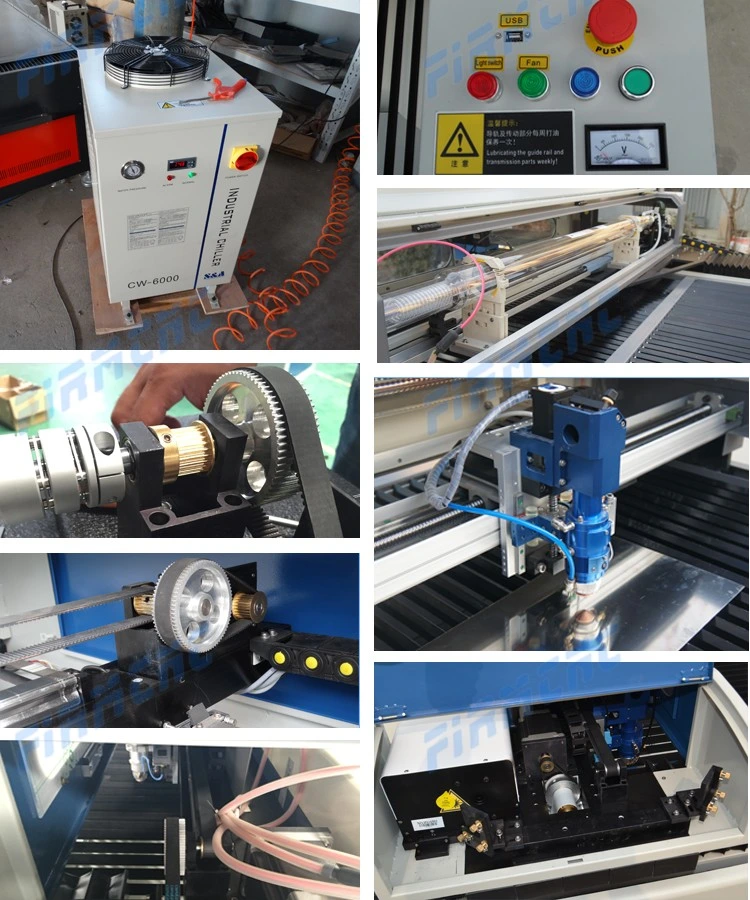 Application
Widely used in advertising signs, sheet metal structure, high and low voltage cabinet making, t
extile machinery, kitchenware, automobiles, machinery, electric saws,
precision parts, subway parts, metal crafts and so on
Materials
Various alloy sheet steel, carbon steel, copper, steel, aluminum, spring steel, galvanized plate,
aluminum plate, titanium etc.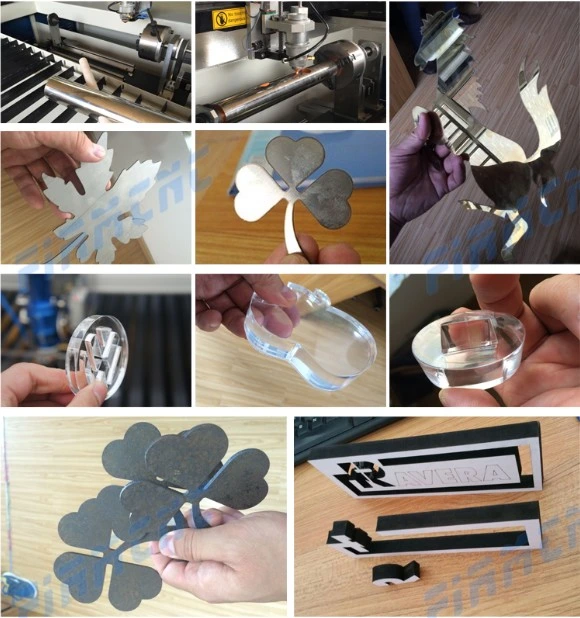 Workshop show
other model : FM-1490, FM-1530 machine size can be customized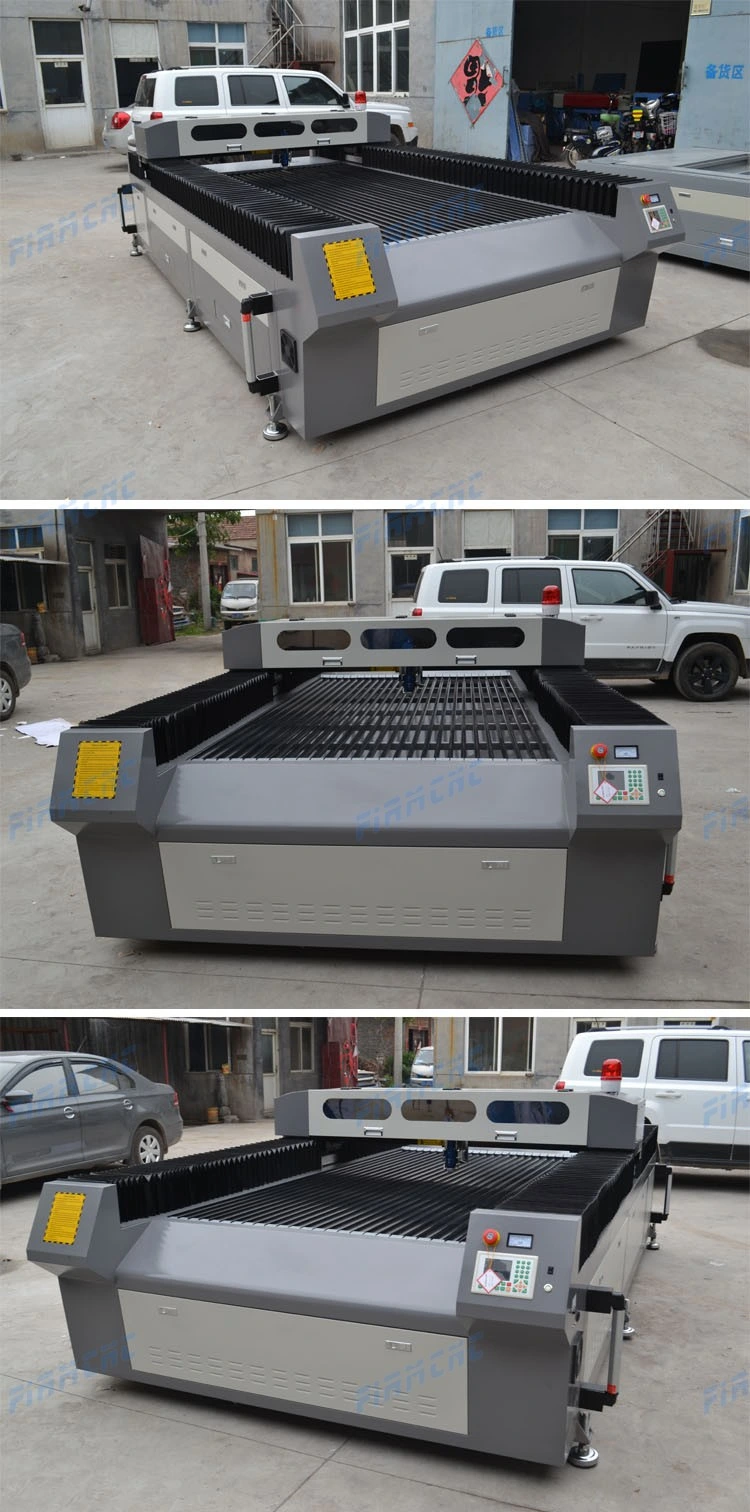 Our Services
1. 12 Months for Machine
2. 10 Months for laser tube
3. 6 Months for equipments outside, such as water chillrt, fan, air pump, etc.
4. Detailed manual and video to guide the user how to use the machine and maintenance, also supply the
specs settings for the speed and power to engrave or cut on various material.
5. Lifely and fast technical guide and solution within 24 hours by email and web camera.
6. The machine will be tested before delivery

Packaging & Shipping
1) Foam and wrapping film on the surface of the machine inside. Rain-proof, Dust proof.
2)Standard export plywood case. Upwards, moistureproof shipping marks. Safety guaranteed.
3) fumigation-free
4)With shipping mark if you like.
5)Outside: Marked packing size, model, weight and other information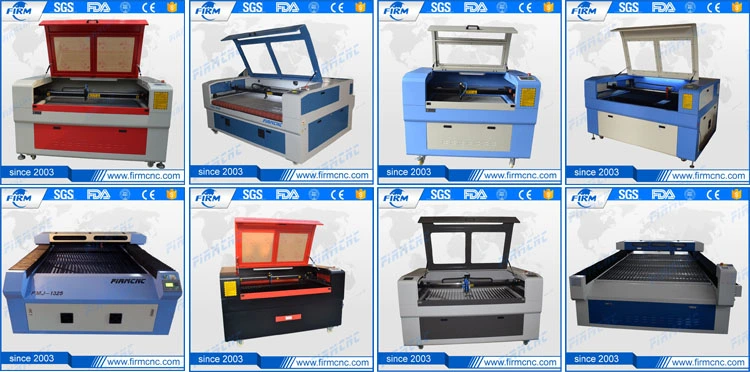 FAQ
Q. What materials can be engraved on Laser engraver and cutting machine?
A. A large range of both metallic and non metallic materials can be engraved on our laser engraver machine
including Traffolyte, stainless steel, acrylic plastics,wood, leather, glass, stone, fabric and many more.
Q. What materials can be cut on Laser engraver and cutting machine?
A. Many (non metallic) materials can be cut on our Laser engraving and cutting machine.
our Laser machines are often used to Laser cut materials such as industrial labels, timber, acrylic, fabric and paper.
Q. What industries would use Laser engraving and cutting machine?
A. Many industries can use our Lasers engraving and cutting machines for a huge range of applications.
The laser engraving machines are used for part numbers, labeling, bar-coding, signage,
promotional goods and many, many others.
Q. How thick can Laser machine cut?
A. How thick our Laser cutter can cut depends on the wattage of the laser and the material,
but for an example a 100W laser can cut up to 10mm acrylic with good edge quality.
Q. What power supply is needed to run Laser engraving and cutting machine?
A. All our Laser's laser engraving and cutting machines run off standard Australian 240V power.
For any other questions or expressions of interest please be sure to visit the contact us page for an online form.
JINAN FIRM CNC EQUIPMENT CO.,LTD
Tel:
0086-0531-69986330
Fax :
0086-0531-69986330
Website:
http://firmcnc.en.made-in-china
.com
firmcnc.en.made-in-china.com
Cell phone:
+86-13954117091
If you want to buy laser machine, please feel free to contact me. I will recommend suitable model and best price.