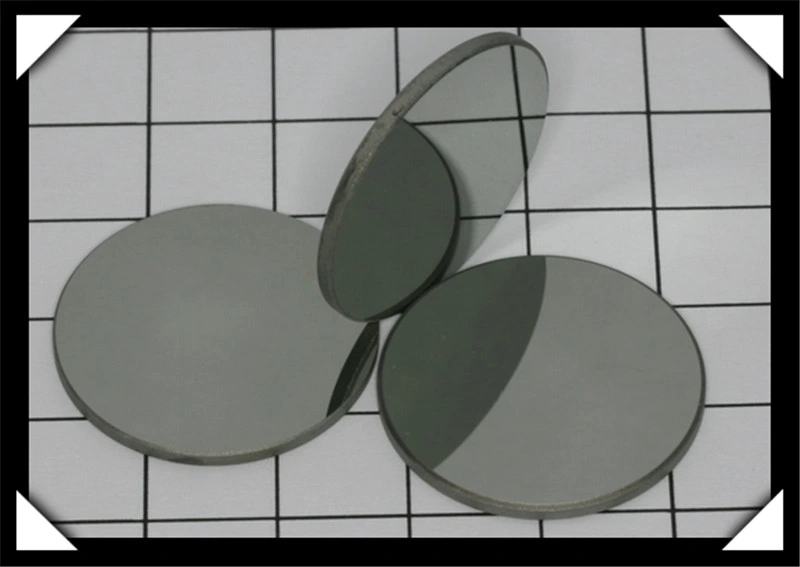 Single crystal (Ge)Germanium Wafer
Ge wafer:
Germanium (Ge) is the preferred lens and window material for high performance infrared imaging systems in the 8-12 um wavelength band. Its high refractive index makes Ge ideal for low power imaging systems because of minimum surface curvature. Chromatic aberration is small, often eliminating the need for correction.
Germanium is most widely used for lenses and windows in IR systems operating in the 2 um - 12 um range. Its transmission is very temperature sensitive, becoming opaque near 100°C. Environment does not cause problems because Germanium is inert, mechanically rugged, and fairly hard.
Germanium is a high index material that is used to manufacture Attenuated Total reflection (ATR) prisms for spectroscopy. Its refractive index is such that germanium makes an effective natural 50% beamsplitter without the need for coatings. It is also used extensively as a substrate for production of optical filters. Germanium covers the whole of the 8-14 micron thermal band and is used in lens systems for thermal imaging. It can be AR coated with diamond producing an extremely tough front optic.
Application as window, lens, beamsplitter, ATR prism or filter in spectrometers and in thermal imaging.

Specifications:
Ge wafer:

Material:

Ge

Dimension Tolerance
+0.0, -0.1mm
Thickness Tolerance:
± 0.1mm
Surface quality:
60/40
Clear Aperture:
>85%
Flatness:
λper 25mm
Parallelism:
3'
Bevel:
<0.25mm X 45°
Coating:
Upon requirement
General Properties of Germanium Wafer
General Properties Structure

Cubic, a = 5.6754 Å

Density: 5.765 g/cm3

Melting Point: 937.4 oC

Thermal Conductivity: 640

Crystal Growth Technology

Czochralski

Doping available

Undoped

Sb Doping

Doping In or Ga

Conductive Type

/

N

P

Resistivity, ohm.cm

>35

< 0.05

0.05 - 0.1

EPD

< 5x103/cm2
< 5x103/cm2
< 5x103/cm2
< 5x102/cm2
< 5x102/cm2
< 5x102/cm2
Grades and Application of Germanium wafer
Electronic Grade

Used for diodes and transistors,

Infrared or opitical Grade

Used for IR optical window or disks,opitical components

Cell Grade

Used for substrates of solar cell

Standard Specs of Germanium Crystal and wafer

Crystal Orientation

<111>,<100> and <110> ± 0.5o or custom orientation

Crystal boule as grown

1" ~ 6" diameter x 200 mm Length

Standard blank as cut

1"x 0.5mm

2"x0.6mm

4"x0.7mm

5"&6"x0.8mm

Standard Polished wafer(One/two sides polished)

1"x 0.30 mm

2"x0.5mm

4"x0.5mm

5"&6"x0.6mm

Special size and orientation are available upon requested Wafers
4 inch Ge wafer Specification

Doping

P

Doping substances

Ge-Ga

Diameter

100±0.25 mm

Orientation

(100) 9° off toward <111>+/-0.5

Off-orientation tilt angle

N/A

Primary Flat Orientation

N/A

Primary Flat Length

32±1

mm

Secondary Flat Orientation

N/A

Secondary Flat Length

N/A

mm

cc

(0.26-2.24)E18

/c.c

Resistivity

(0.74-2.81)E-2

ohm.cm

Electron Mobility

382-865

cm2/v.s.

EPD

<300

/cm2

Laser Mark

N/A

Thickness

175±10

μm

TTV

<

15

μm

TIR

N/A

μm

BOW

<10

μm

Warp

<

10

μm

Front face

Polished

Back face

Ground
Germanium Wafer Process
In the germanium wafer production process, germanium dioxide from the residue processing is further purified in chlorination and hydrolysis steps.
1)High purity germanium is obtained during zone refining.
2)A germanium crystal is produced via the Czochralski process.
3)The germanium wafer is manufactured via several cutting, grinding, and etching steps.
4)The wafers are cleaned and inspection. During this process, the wafers are single side polished or double side polished according to custom requirement, epi-ready wafercomes.
5)The wafers are packed in single wafer containers, under a nitrogen atmosphere.
Application:
Germanium blank or window are used in night vision and thermographic imaging solutions for commercial security, fire fighting and industrial monitoring equipment. Also, they are used as filters for analytical and measuring equipment, windows for remote temperature measurement, and mirrors for lasers.
Thin Germanium substrates are used in III-V triple-junction solar cells and for power Concentrated PV (CPV) systems.