WS-OPM-36 portable optical power meter is a brand-new optical fiber measurement equipment independently developed by our company to
meet customer needs and combine the features and functions of current mainstream test instruments in the market. This equipment has the characteristics of small size, friendly operation interface, high precision and brand-new user automatic calibration. It is an ideal measuring
equipment for optical fiber transmission network.
Technical parameters

WS-OPM-36

Red light source part(This feature is customizing for customers)

Light emitting device

FP-LD

Working wavelength(nm)

650nm

Typical output of output power(mw)

(1mw 5km),(10mw 10km),(30mw 20km),(50mw 25km)




optional

Transmission distance(Km)

Red light frequency scintillation




function

Yes, the frequency is 2Hz

Red light mode

Always on and flashing

Optical power meter section

Calibrated wavelength(nm)

850,980,1300,1310,1490,1550,1625

Probe type

InGaAs

Detection range(dBm)

-70~+6;-50~+26 optional

Inherent uncertainty

±5%

Degree of linearity(dB)

±0.001

Display resolution(dB)

0.05

Communication interface

Micro USB

Connector type

FC,SC optional

Power supply battery type

Dry battery: 3pcs No. 7 1.5V AA dry battery




Lithium battery: 800mAh 4.2V lithium battery

Continuous working time of dry battery type (h)

120h(Only for the optical power meter to operate alone)

Intelligent automatic shutdown time

Automatic shutdown without operation within 10min

Working temperature(ºC)

-10~+50

Storage temperature(ºC)

-25~+70

Net weight(g)

87g(Without battery)

Size(mm)

126*56*27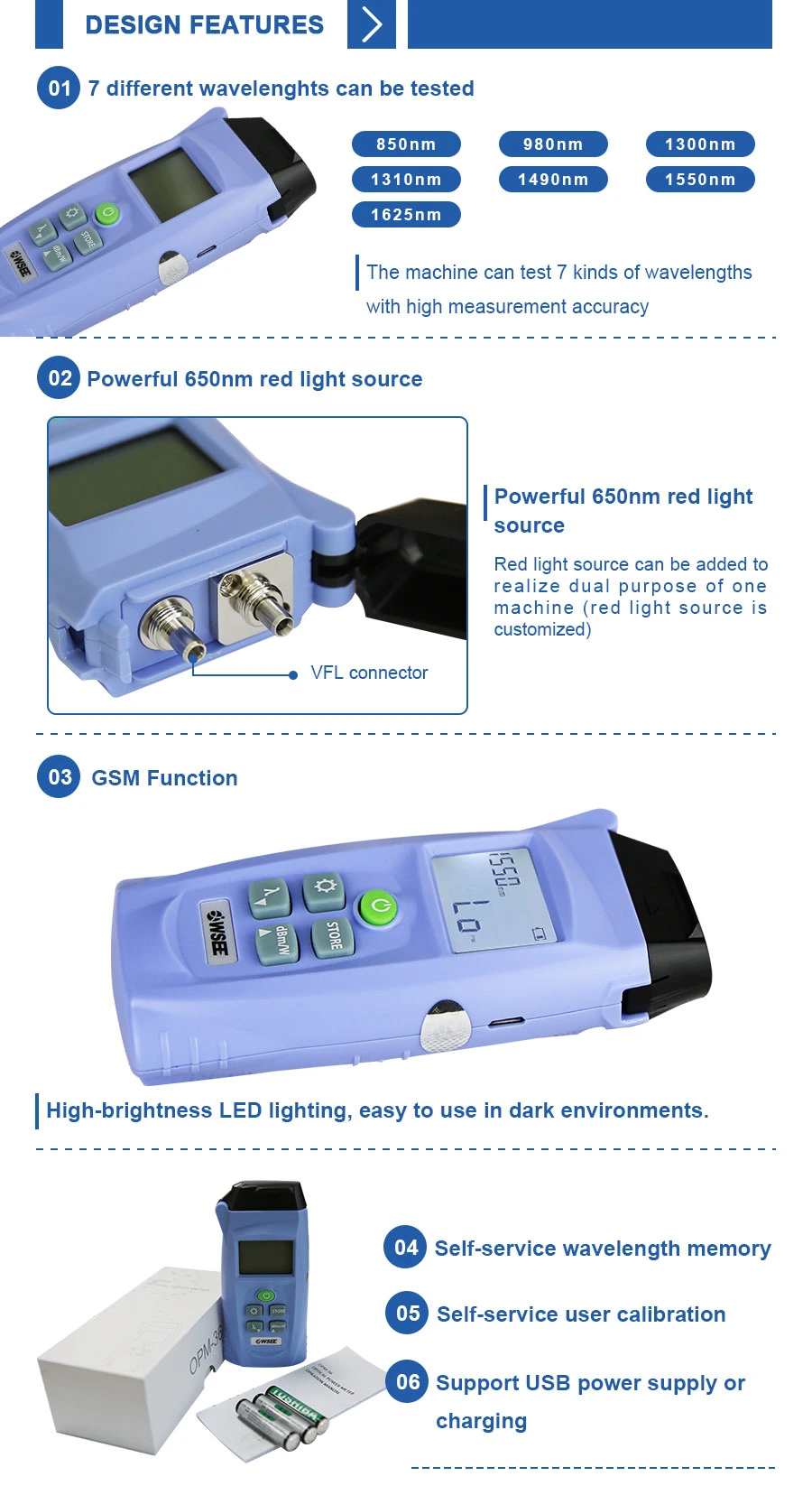 The machine can test 7 kinds of wavelengths

with high measurement accuracy

Support USB power supply or charging

Powerful 650nm red light source

Red light source can be added to realize dual purpose of one machine (red light source is customized)

High-brightness LED lighting, easy to use in dark environments

Self-service wavelength memory

Self-service user calibration