Product Description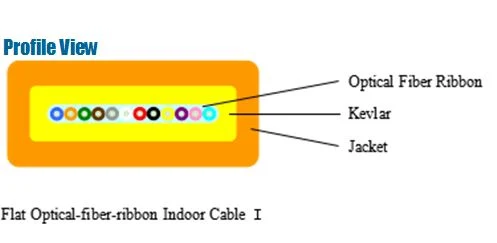 Features
Good mechanical and environmental characteristics;
Flame retardant characteristics meet the requirements of relevant standards;
The mechanical characteristics of jacket meet the requirements of relevant standards;
Soft, flexible, easy to lay and splice, and with big capacity data transmission;
Meet various requirements of market and clients.
Application
Used in indoor cabling, especially used in good laying conditions;
Used in optical connections in optical communication equipment rooms and optical distribution frames, optical apparatus and equipments;
Used in pigtails and patch cords;
Specification
Fiber Count
Cable
Dimension (mm)
Cable Weight
(kg/km)
Tensile (N)
Crush(N/100mm)
Min. Bend
Radius(mm)
Range of Temperature(ºC)
Long Term
Short Term
Long Term
Short Term
Dynamic
Static
2
2.5×3.5
7.3
80
200
200
500
50
30
-20~+60
4
2.5×3.5
7.4
80
200
200
500
6
2.5×4.0
8.2
80
200
200
500
8
2.5×4.5
9.3
80
200
200
500
12
2.5×5.0
10
80
200
200
500

Note: 1. All the values in the table, which are for reference only, are subject to change without notice;
2. The cable dimension in the tahle, which are according to single ribbon, are subject to change with the ribbon count;
3. The minimum bend radius (static) is 15mm when G657 fiber is used.

Options
Fiber Type: G652, G655 or G657 single-mode fiber, A1a or A1b multi-mode fiber, or other types of fiber;
Jacket Material: Enviromental flame retardant polyvinylchloride (PVC), enviromental low smoke zero halogen flame retardant polyolefin (LSZH), enviromental halogen flame retardant polyolefin (ZRPO), or other contracted material;
Jacket Color: (Including color of fiber) meets the requirements of relevant standards, or other contracted color;

Cable Dimension: The nominal cable dimension, or other contracted dimension;
Delivery Length: 1km or 2km, or other contracted length;
Other Requirements: Other contracted special requests.