Single Mode G652D Fiber Optic Cable Unitube Type GYXTW
Description:
1. Single jelly compound filled loose tube containing up to 24 fibers
2. Waterproof tape between the steel tape and loose tube with jelly compound.
3. Double coated PE corrugated steel tape under PE sheath.
4. Parallel double steel wire as strength member.
5. Compact structure, light weight, steel tape armored excellent water-proof layer, good moisture.
General Specifications:
| | |
| --- | --- |
| Cable Type | Central Loose Tube fiber optic cable GYXTW |
| Fiber Type | SM G.652D |
| Application | Long-distance communication, LAN |
| Recommended installation methods | Aerial |
| Environment | Outdoor |
| Temperature Range | -40ºC to 70ºC |
Fiber Specifications:
Technical parameter of ITU-T G.652D (B1.3) single-mode optical fiber

Characteristics

Conditions

Specified Values

Units

Optical Characteristics

Mode field diameter (MFD)

1310nm
1550nm
9.2±0.4
10.4±0.8
µm
µm

Cut-off wavelength (λcc)

≤1260

nm

Attenuation coefficient

1310nm
1383nm
1550nm
<0.35
<0.35
<0.22
dB/km
dB/km
dB/km

Macro bending loss

φ75mm, 100circles, at 1550nm

≤0.1

dB

Attenuation non-uniformity

≤0.05

dB

Dispersion coefficient

1288~1339nm
1271~1360nm
1550nm
≤3.5
≤5.3
≤18
Ps/(nm.km)
Ps/(nm.km)
Ps/(nm.km)

Zero dispersion wavelength

1300~1324

nm

Max zero dispersion slope

≤0.093

Ps/(nm2.km)

Group index of refraction (typical value)

1310nm
1550nm
1.466
1.467

Geometric characteristic

Cladding diameter

125.0±1.0

µm

Core/cladding concentricity error

≤0.8

µm

Cladding non-circularity

≤1.0

%

Coating diameter

245.0±10

µm

Cladding/coating concentricity error

≤12.0

µm

Coating non-circularity

≤8

%

Diameter of colored coating

250.0±15

µm

Mechanical characteristic

Curling (radius)

≥4

m

Proof stress

>0.69

Gpa

Coating strip force

Average value
Peak value
1.0-5.0
1.3-8.9
N
N
Dynamic stress corrosion susceptibility parameter (nd value)

≥20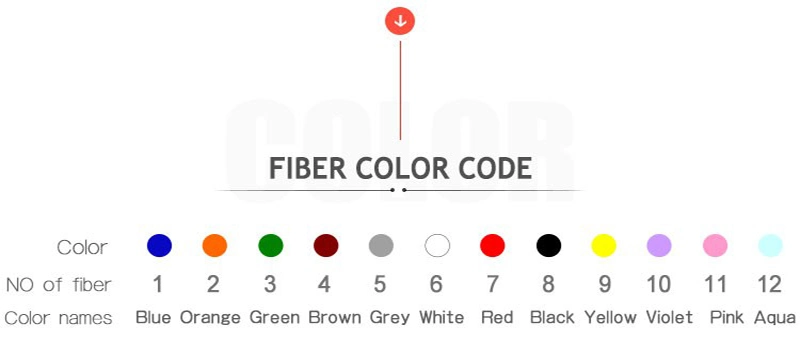 Cable Structure: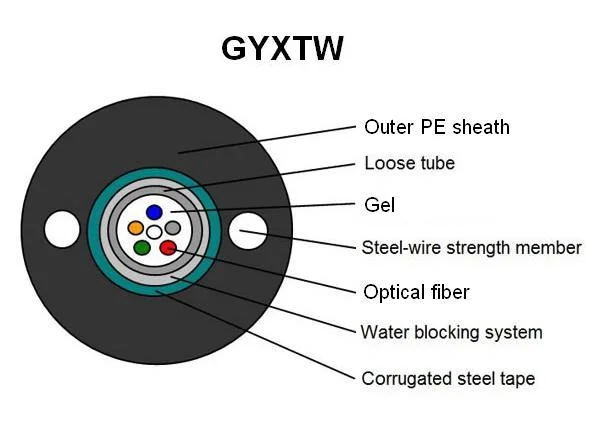 Cable Design:
Item

Description

Model No

GYXTW

1. Fiber count

4-18

20-24

2. Cable Diameter

7.4±0.2mm

8.0±0.2mm

3. Cable Weight

56KG

69KG

4. Loose Tube

-Material

PBT

-Outer diameter

2.0 mm

2.6mm

-Thickness

0.3mm

-Type of filling compound

Jelly

5.Strength member

-Material

Steel wire

-Outer diameter

1.0 mm

-Number

2 pcs

6.Armor

-Material

Corrugated steel tape

7. Water-blocking system

-Material

Filling Compound

8.Outer Sheath

-Material

HDPE

-Thickness

1.8mm±0.2mm

9. Sheath marking

-Type of marking

Laser printing
Cable Performance:
Item

Testing

Test Method

Test Result

1

Tensile strength
IEC 60794-1-E1
Long-term:1500N
Short-tern: 600N
Cable length: ≥50m
Loss change≤0.1dB@1550nm
No fiber break and no sheath damage

2

Impact
IEC 60794-1-E4
Height: 1m
Weight: 1kg
Impact spot: ≥5
Impact cycle: at lease 3 cycle per spot
Loss change≤0.1dB@1550nm
No fiber break and no sheath damage

3

Repeated Bending
IEC 60794-1-E6
Bending diameter: 25X the cable outer diameter
Applied load: 25kg
Bending cycle: 30times
Bending speed: 1 cycle per 2s
Loss change≤0.1dB@1550nm
No fiber break and no sheath damage

4

Torsion
IEC 60794-1-E7
Torsion length: 1m
Applied load: 25kg
Torsion angle: ±90 or +180
Twist cycle: ≥10 times
Loss change≤0.1dB@1550nm
No fiber break and no sheath damage

5

Water Penetration
IEC 60794-1-F5B
Water height: 1m
Cable length: 3m
Keeping time: 24hours

No water leaked from the opposite end of cable

6

Temperature
IEC 60794-1-F1
Temperature step:+20°C->-40°C°C >+70°C->+20°C
Keeping time: 24hours per each step
Cycle:2times
Loss change≤0.1dB@1550nm
No fiber break and no sheath damage

7

Compound flow
IEC 60794-1-E14
Sample length: 30cm
Temperature: 70ºC±2ºC
Keeping time: 24hours

No compound flow

8

Sheath high voltage test

On line test
DC 12t kV(t-sheath thickness mm)

No sheath broken down
More Pictures: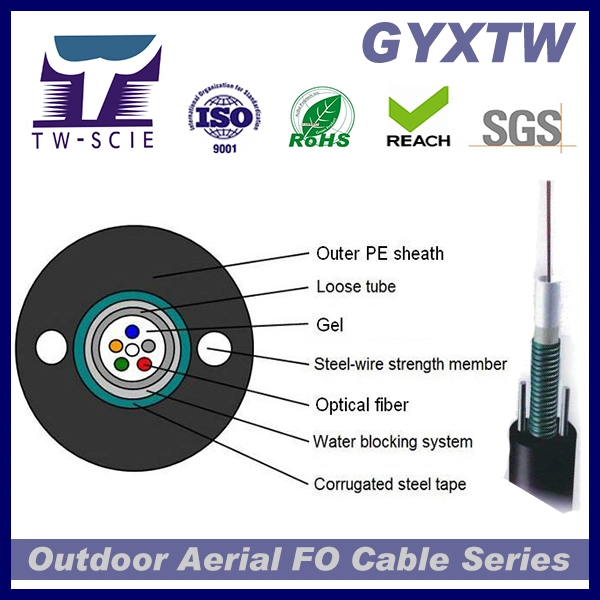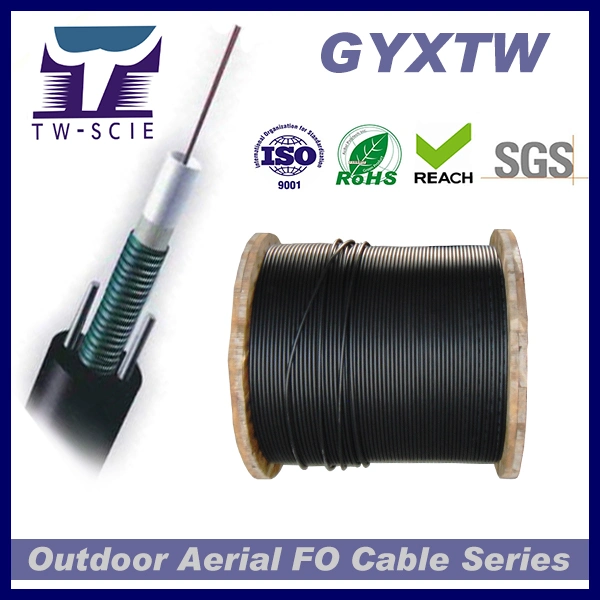 Company Overview: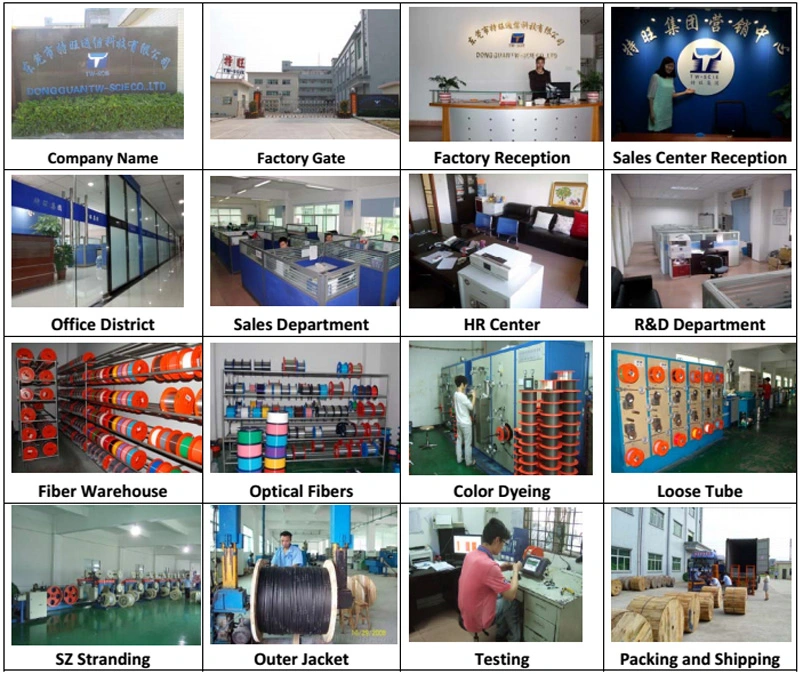 Related Products: