Body Shaping Cellulite Reduction Rolling Massage Body Shaping Machine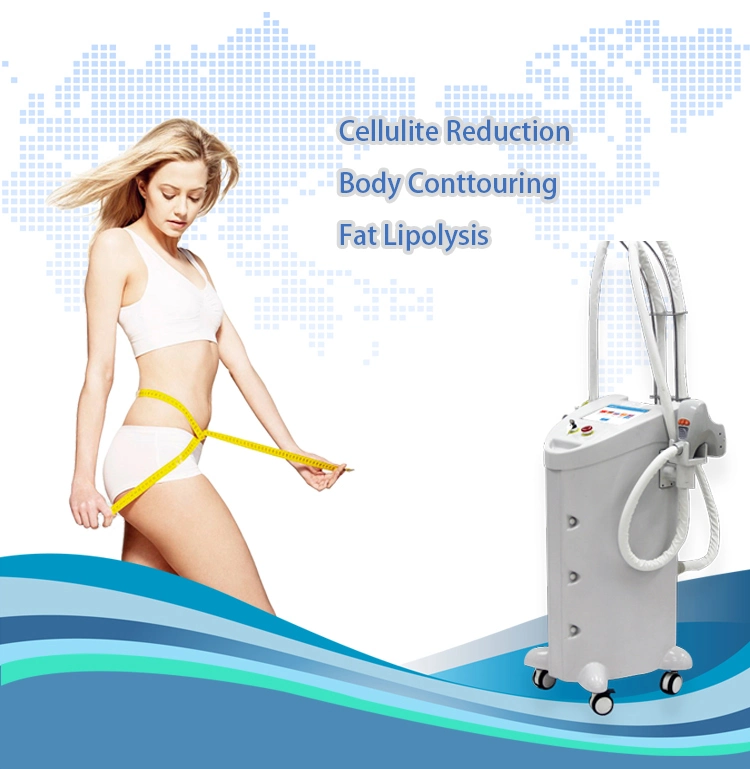 What is KUMA Shape System?

KUMA shape system consists in an endodermic massage, both for face and body, by means of a delicate vacuum and rolling action, always effective.
It is a safe, painless and completely non-invasive treatment for cellulite and fat reduction, aesthetic body contouring and very effective for adipose tissue removal. It adopts the same technology with famous Vela Shape.
Elos technology:
Combination of Bi-Polar Radiofrequency (RF), Infrared Light Energy, plus Vacuum and Mechanical Massage.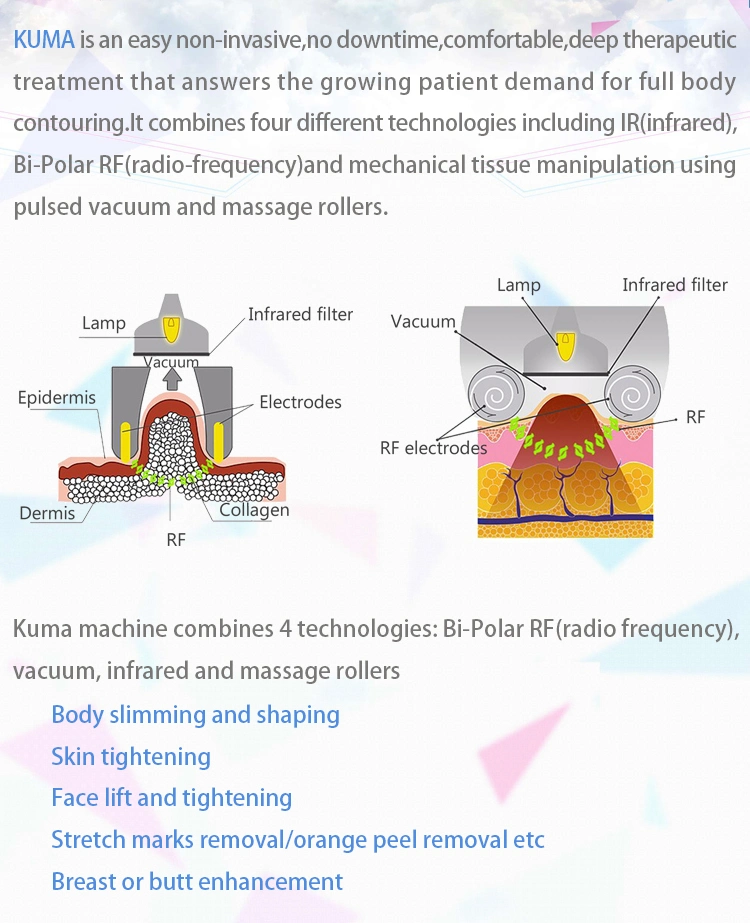 Application:
Cellulite removal, body shape, Body slimming, Fat and adipose tissue removal, Skin tightening, wrinkle removal etc.
Kuma provides an easy non-invasive, no downtime, comfortable, deep therapeutic treatment that answers the growing patient demand for full body contouring. It combines four different technologies including IR (infrared), Bi-Polar RF(radio frequency) and mechanical tissue manipulation using pulsed vacuum and massage rollers.
Body Shaping
By changing the polarity of the electrodes of the organism tissue 10 million times in 1 second, the10Mhz bipolar high-frequency can heat the fat tissues in the layer 0.5-1.5cm under the skin to strengthen the spreading of the oxygen molecule, which can increase the exchange of the material of the cells and speed up the fat metabolism.
By heating up the fat tissue under skin without hurting the epidermis layer, the 500-2000nm wavelength infrared light can decrease the size of fat cell and redistribute the water and glycerin.
By increasing the blood supply of the fat tissue, the rolling vacuum massage can strengthen the release of the enzyme to speed up the fat metabolism.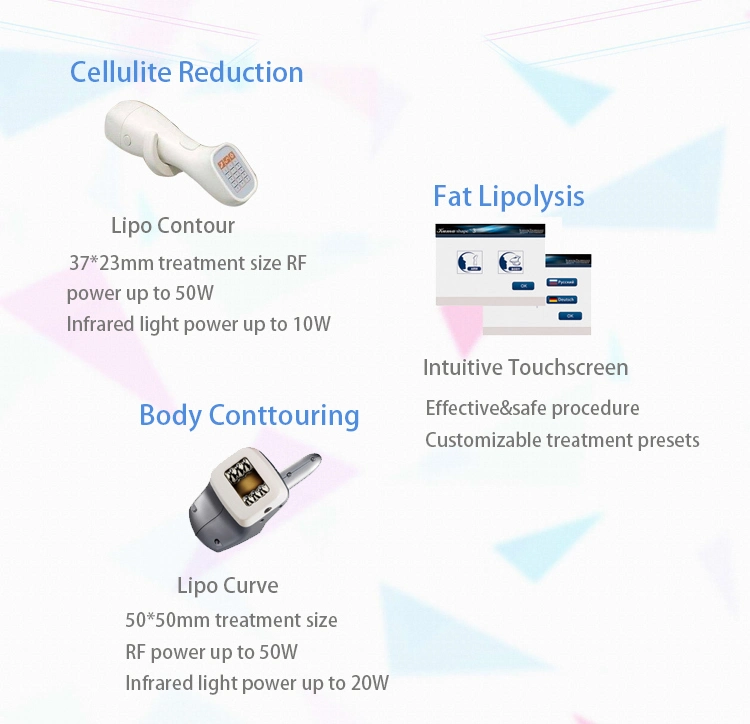 Kuma Shape Indications
1. Fat burning and body shaping --- narrow the size of buttocks and thighs and reduce abdominal fat, thus achieve body shaping and firming.
2. Cellulite removal ---the treatment is applicable for all kinds of skin color to remove the undesired fat and cellulite.
Kuma ShapeII--- an excellent body shaping machine adopts 4 technologies: Bipolar RF, Vacuum,Infrared Light and Auto-Massage.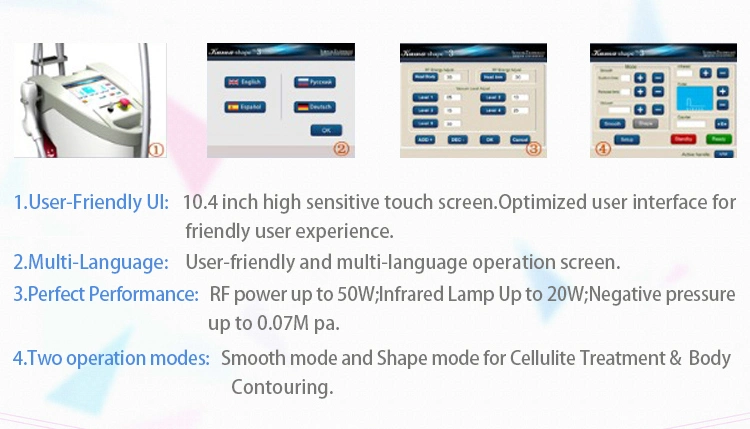 Advantages
The advantages of KUMA Body Shape:
1) Has CE Certificate. Both quality and functions are guaranteed.
2) Mainly used for Body Slimming and Shaping, Removal of Cellulite, Wrinkles, Stretch Marks, etc.
3) Integrates Bipolar Radio Frequency, Adjustable Vacuum, Infrared, Automatic Massage 4 technologies.
4) Has attractive big-size high-responsive and high-resolution Touch Screen. Very convenient to operate.
5) Has 2 treatment heads. Both are controlled by treatment heads themselves and the touch screen. Safety is guaranteed.
6) The big treatment head is mainly used for treatment on big-square skin like back and belly. The small treatment head is mainly used for treatment on small-square skin like face and neck. Both of the 2 treatment heads have RF, Vacuum, Infrared and Massage work simultaneously.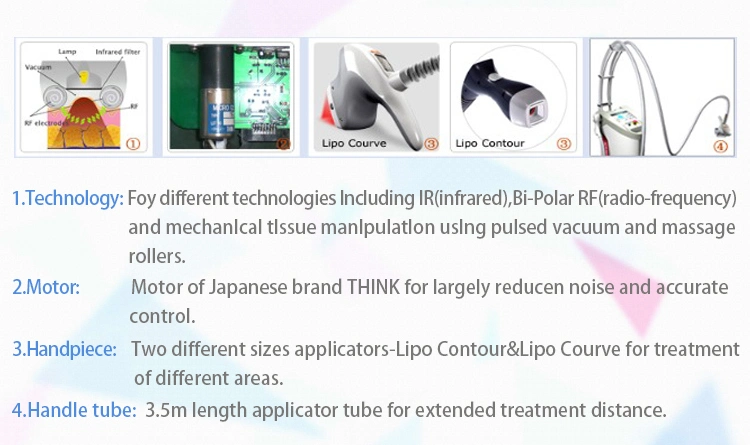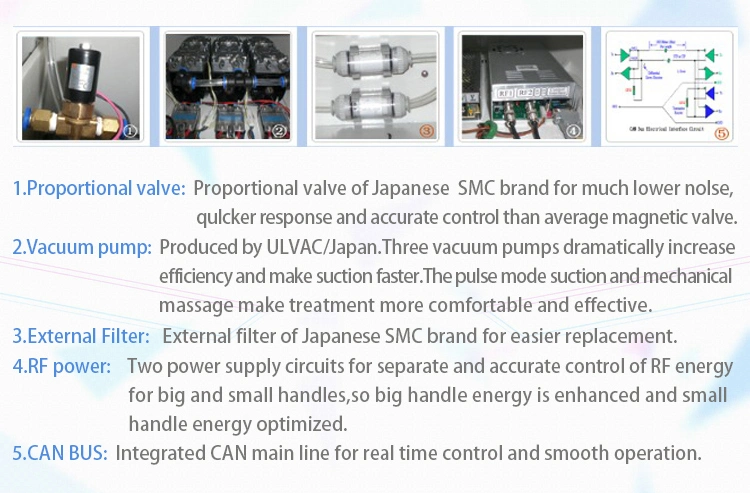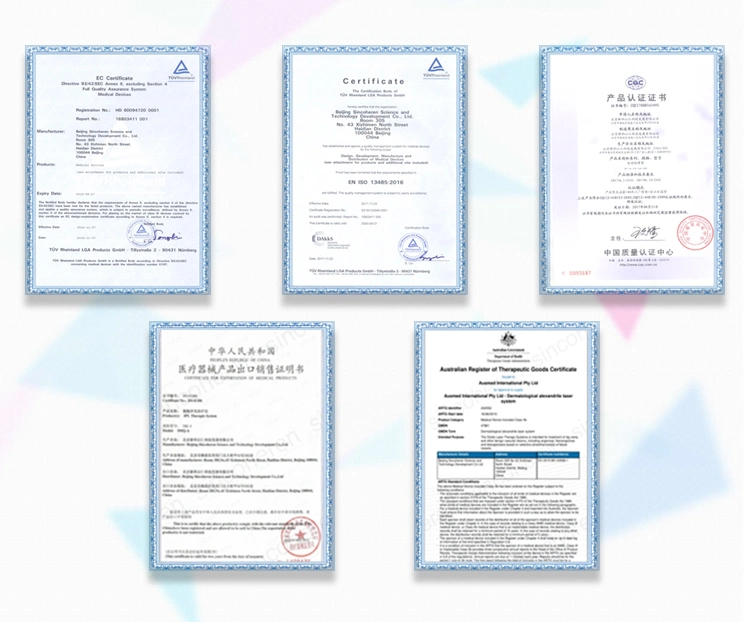 Specifications